MEDIA RELEASE
December 20, 2022
UNITED WAY OF HERNANDO COUNTY
Elementary Students' Artwork Featured on Holiday Cards
UNITED WAY'S ANNUAL HOLIDAY CARD COLORING CONTEST
Spring Hill, FL – (December 16, 2022) - United Way of Hernando County hosted their 8th Annual Holiday Card Coloring Contest this fall. Hernando County students from pre-school through 5th grade had the chance to participate and color a holiday beach themed coloring sheet. Students were encouraged to submit their finished artwork, where 6 lucky winners that creatively embraced the LIVE UNITED spirit were selected. The winners' artwork were featured on the cover of United Way's 2022 Holiday Cards. These fun and crafty cards are sent out to over 200 community partners, local businesses, Board of Directors, Partner Agencies and more!
United Way had an impressive total of 168 children enter the contest this year. Reviewing each and every submitted sheet was such a joyous opportunity for the United Way Student Board (Hernando County students, ages 15-20) to deliberate over. "The Student Board did such an amazing job evaluating every piece of artwork. Overseeing their decision making was so sweet, they had nothing but good things to say about every submission," said United Way's Executive Director, Angie Walasek. "We like to give our cards a Florida twist! United Way looks at it as a creative way to make our holiday cards in-house while promoting local talent," said Walasek. "Some of the artwork we received back were from kindergarteners, and they were beautiful!" United Way team members announced the winners live on campus at the students' schools on December 16, 2022. This was accomplished with the help of their art teachers. Student/teacher gift cards, United Way giveaways, and school supplies were awarded as thank-yous, while encouraging students to stay creative year-round.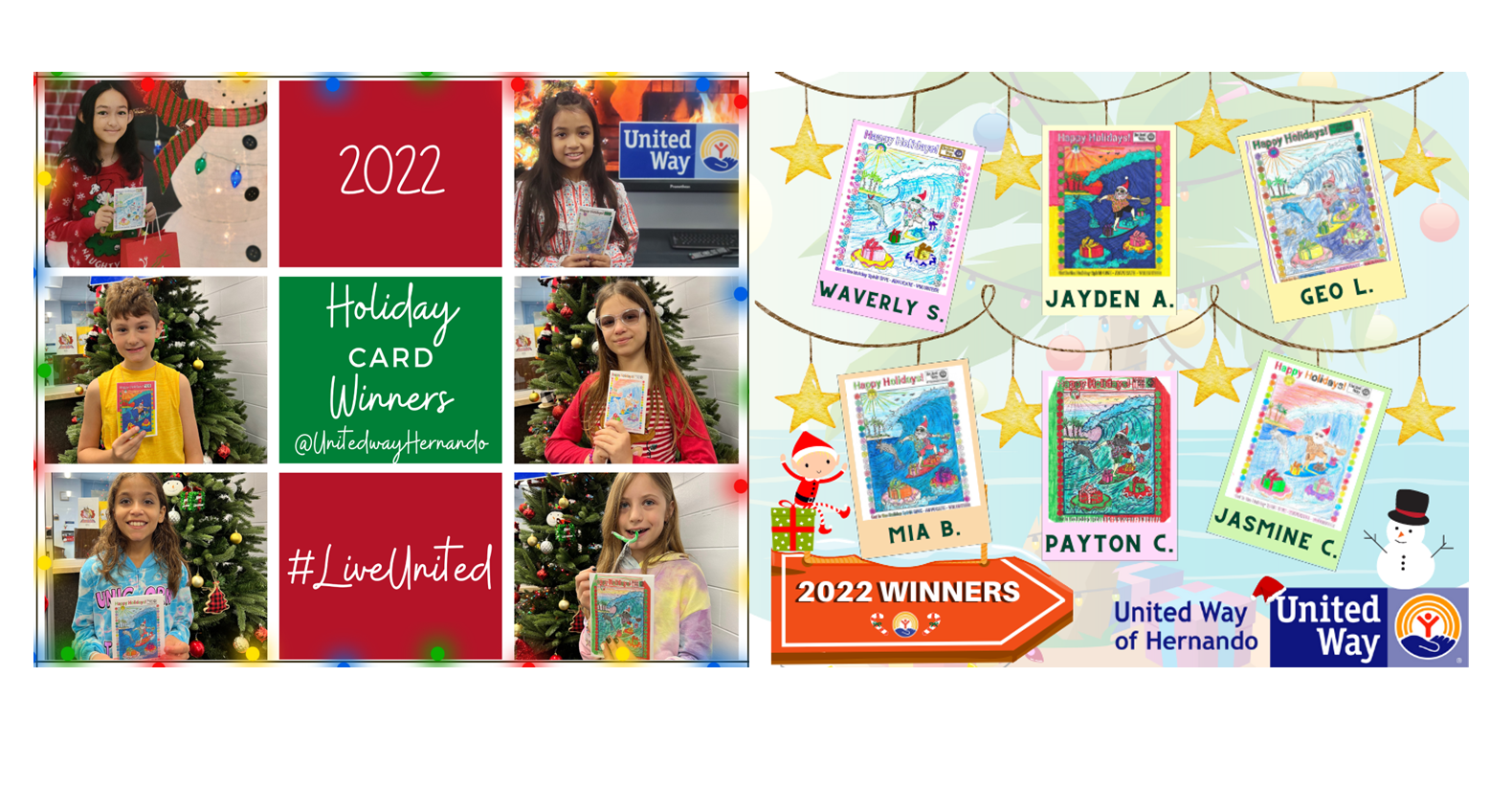 United Way would like to congratulate the 2022 Holiday Coloring Card Contest Winners: Waverly Sangalong (5th grade) from Winding Waters K-8; Geo Lahon-Nicolai (2nd Grade) from Challenger K-8; Jayden Andrade (5th Grade), Jasmine Clark (5th Grade), Mia Bermudez (3rd Grade), and Payton Casey (5th Grade) from J.D. Floyd Elementary School
For easy ways to give back this Holiday Season, visit www.UnitedWayHernando.org/Give.
###
United Way of Hernando County, Inc.:
United Way of Hernando County (UWHC) was established as a 501c3 organization in 1987, and since then has continuously focused on creating partnerships and mobilizing our community to seek sustainable solutions to some of the most pressing local needs.  UWHC strategically allocates Community Investment Funds in Health, Education, & Financial Stability programs with proven results and local impact. UWHC works hard to balance the growing demand for basic services such as food, utilities, and rent assistance, with our ongoing commitment to tackling the underlying causes of complex issues. United Way partners with businesses and organizations that share our vision for improving lives through the power of collective impact and working together. Our support for long-term commitments are essential to addressing key social issues, such as helping children, youth, adults & elders, encouraging health and wellness, including physical and emotional care, promoting financial stability and self-sufficiency, and crisis intervention. For more information on how YOU can LIVE UNITED, visit www.UnitedWayHernando.org.
2022 WINNERS: