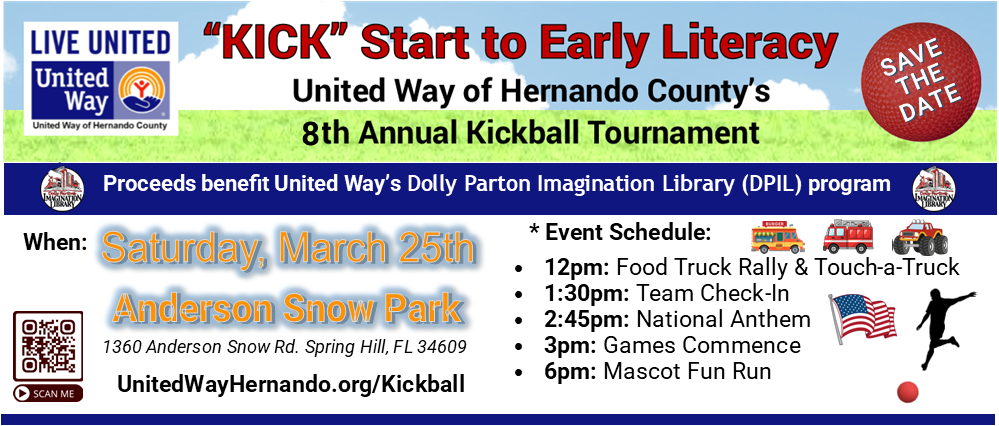 SUPPORTING EARLY LITERACY
United Way of Hernando County's Kickball Tournament's purpose is to support early literacy and continue to provide Hernando preschool children free books to help them grow their own little library and prepare them for kindergarten. All proceeds from this the "KICK" Start to Early Literacy Kickball Tournament will benefit United Way's Dolly Parton Imagination Library (DPIL) program, currently providing over 1,050 Hernando children with a free book every month from birth to age of five. The books are mailed directly to enrolled children regardless of their family's economic status.
EVENT UPDATE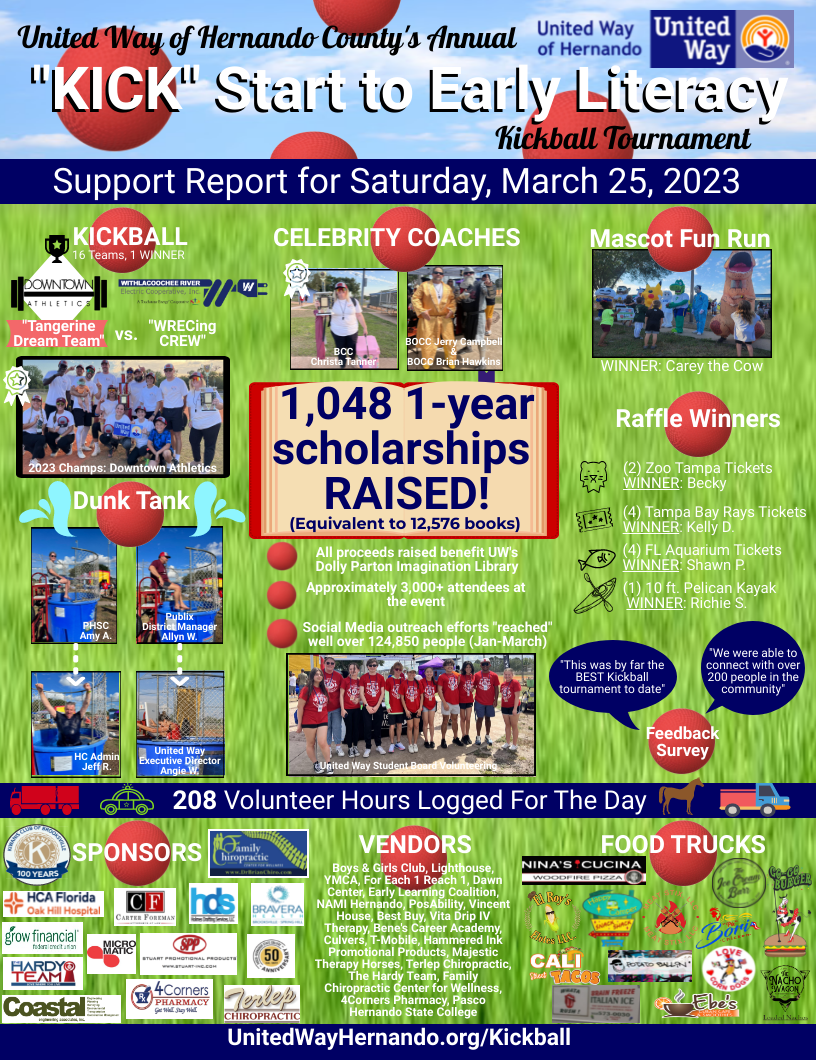 United Way's 8th Annual "KICK" Start to Early Literacy #Kickball Tournament was one for the BOOKS!
The Championship Game came down to Downtown Athletics "Tangerine Dream Team" - Celebrity Coach Christa Tanner VS  Withlacoochee River Electric Co-Op Inc "WRECing Crew"" - Celebrity Coach Doug Chorvat Jr. A BIG congratulations to the "Tangerine Dream Team" for taking home the Ultimate Traveling Trophy
Congratulations to semi-finalists Barrette Outdoor Living's "Barrette Knights" w/ CC Brian Hawkins and Timber Pines Community Associations' "Hammer Jammers" w/ CC April Johnson Spence
The Celebrity Coach DUNK TANK resulted in:
Pasco-Hernando State College SH Campus Provost Dr. Amy Anderson (voted)
Publix District Manager Allyn Welch (voted)
HC Administrator Jeff Rogers (selected)
UWHC Executive Director/CEO Angie B. Walasek (selected)
Our Pie-A-Deputy and MASCOT FUN RUN (Carey the Cow) was a success!!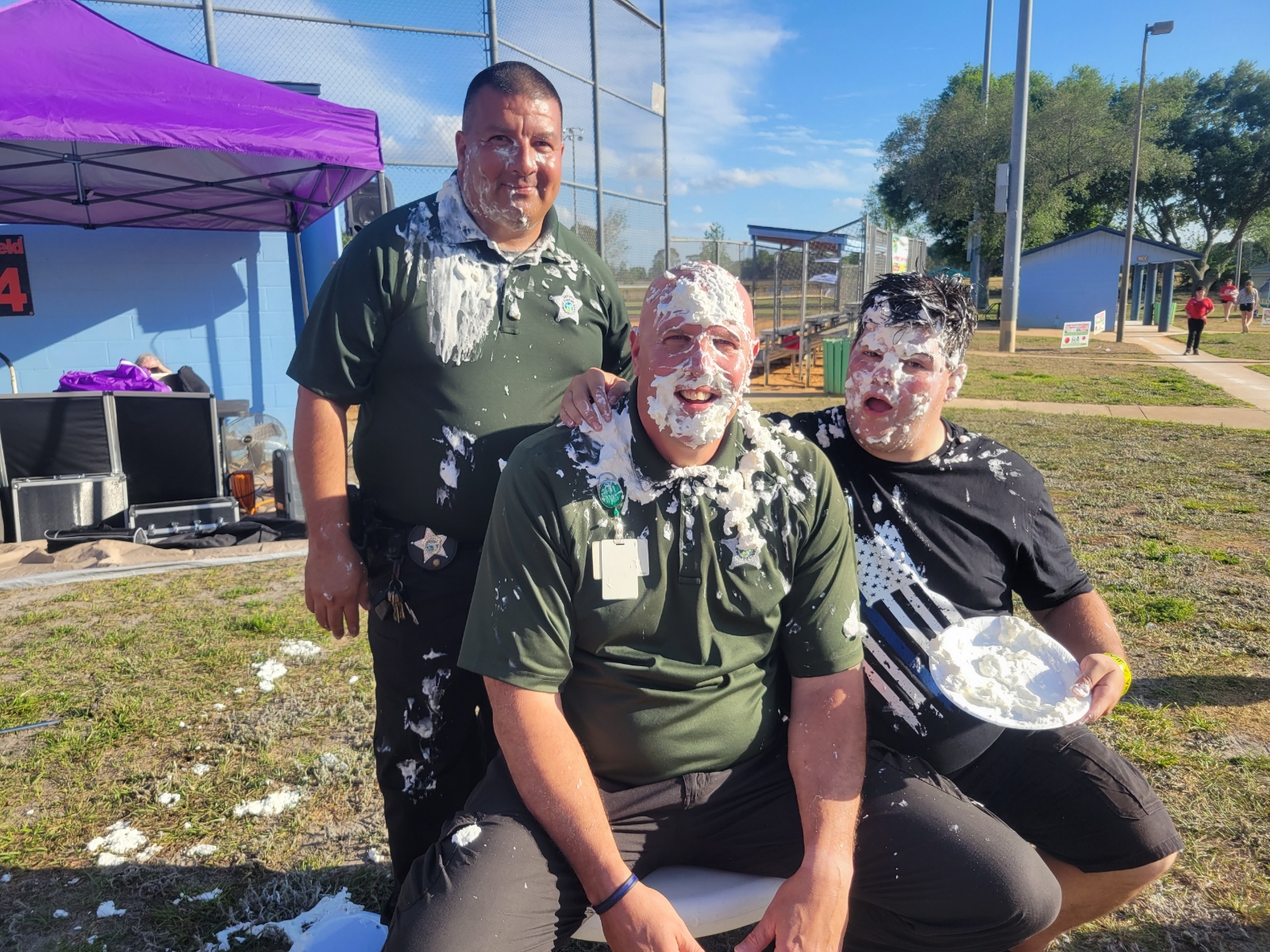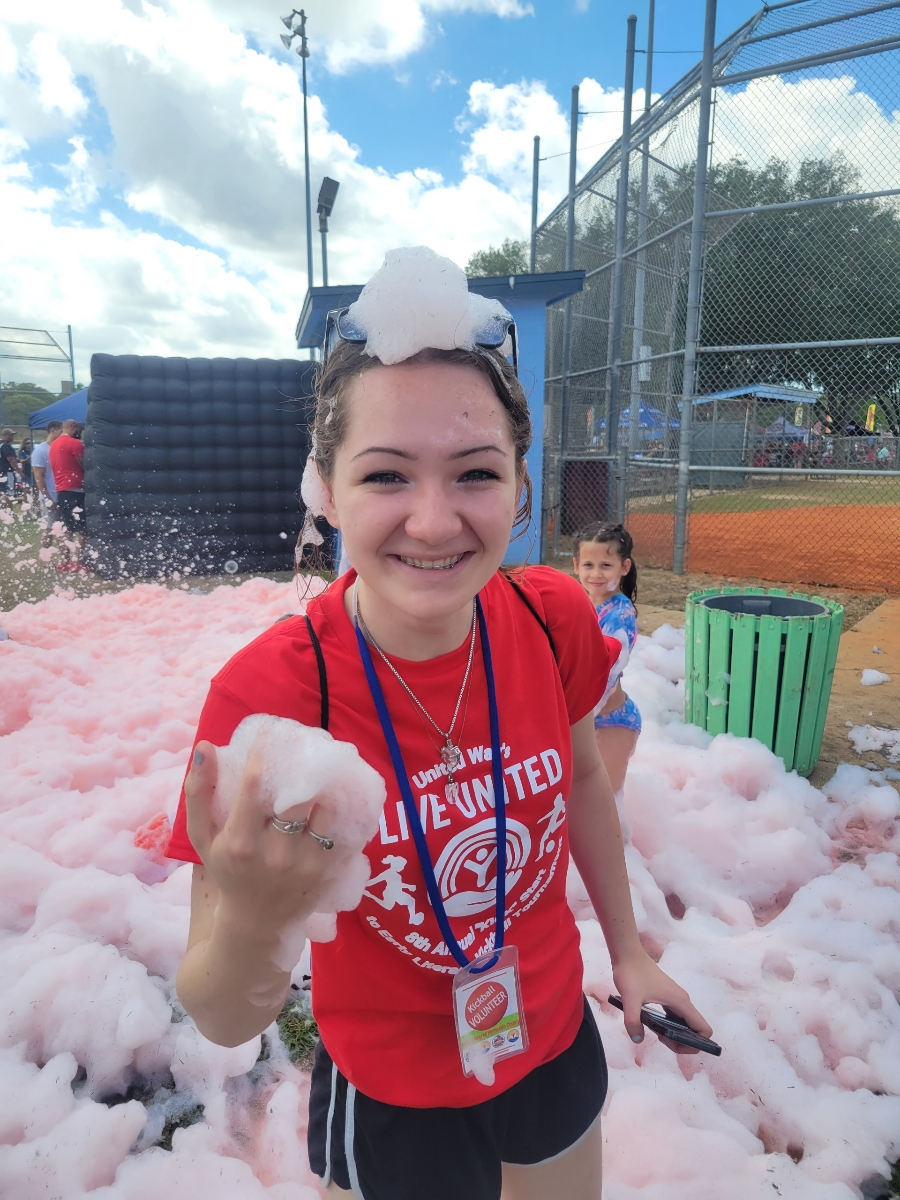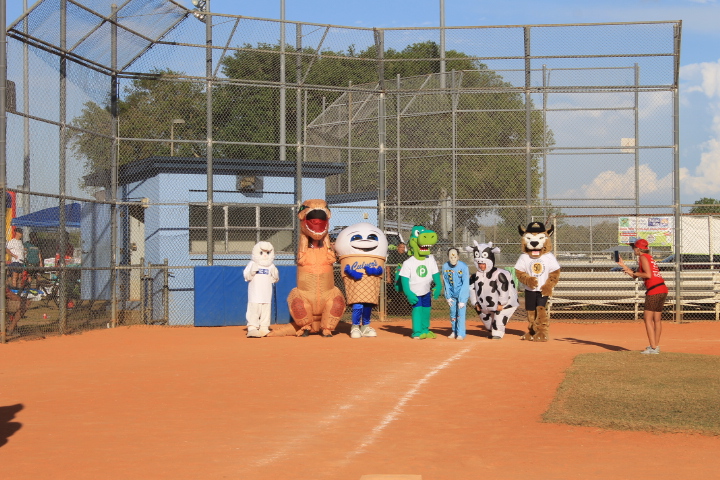 Thank you to our Grand Slam Champions Kiwanis Club of Brooksville & Family Chiropractic and all amazing sponsors, vendors, and volunteers for their partnership! Thanks to the support received from this event, United Way will be able to provide 1,048 1-year scholarships (equivalent to 12,576 books) to #Hernando preschool children through our Dolly Parton's Imagination Library over this next year!
For more ways you or your business can get involved and #LIVEUNITED, visit www.UnitedWayHernando.org #Ballin4Books
---
Food Trucks:
Entertainment:
                                      PJ the DJ                  
Vendors:    
NOW RECRUITING KICKBALL VENDORS
 If you're interested in becoming a vendor at United Way of Hernando County's upcoming  8th Annual "KICK" Start to Early Literacy Kickball Tournament, scheduled for Saturday, March 25th, then email Justine with your filled out vendor form through impact@unitedwayhernando.org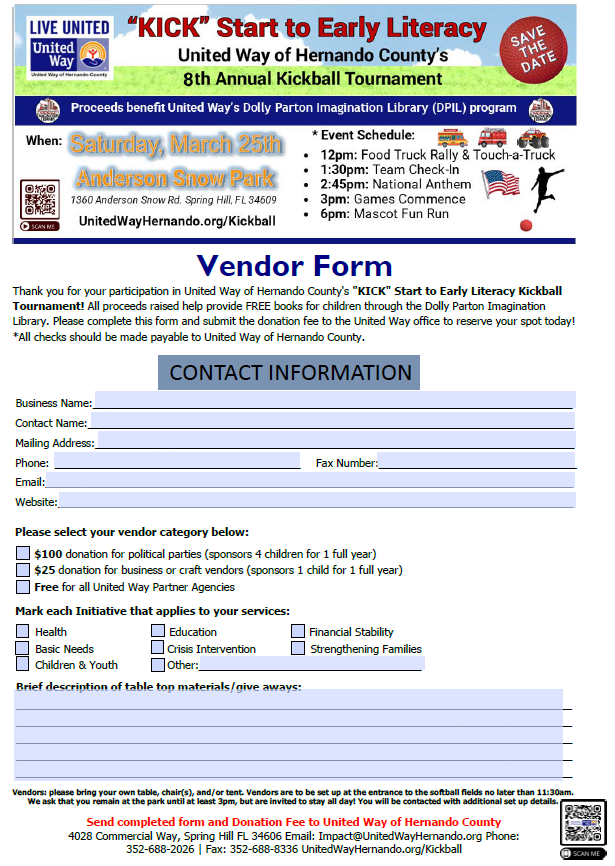 Questions? Please email Justine at impact@unitedwayhernando.org or contact the United Way office 352-688-2026
Trucks: 
Monster Trucks

FOP Truck

SWAT Truck

Sheriff's Office Vehicles

Hernando County Mosquito Control

And so much more!
---
Individual and Business Sponsorships are available for anyone interested in investing in a child's future. Your donation will enroll children onto the Dolly Parton Imagination Library program where free books will be mailed directly to their homes every month from birth to age 5.
Business Sponsorships:                                                                                   
Get your business involved and make a difference in the lives of thousands of youth in Hernando.
Presenting Sponsors - Grand Slam Champions: Kiwanis Club of Brooksville and Family Chiropractic Center for Wellness
Field Sponsors - Home Run Heroes: HCA Florida Oak Hill Hospital, Carter Foreman PLLC, Holmes Drafting Services and Bravera Health Spring Hill & Brooksville
Kickball Sponsor - Base Run Ballers: Stuart Promotional Products, The Hardy Team, Micro Matic, Grow Financial, Terlep Chiropractic, Coastal Engineering Associates, inc, Pasco Hernando State College, and 4Corners Pharmacy.

Yard Sign Sponsor - Double Play!
Individual Scholarships:
Sponsor a child for 12 months for $26
Sponsor a child from birth to age 5 for $130
Questions? Please contact the United Way office 352-688-2026 or email Justine at impact@unitedwayhernando.org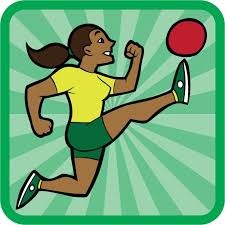 2023 Team Line-Up: 
The Gym Class Heroes (Hernando County School Board)
Barrette Knights (Barrette Outdoor Living)
One Kick Wonders (Bravera)
Team Bilira-Kicks (Gus Bilirakis)
WRECking Crew (Withlacoochee River Electric Company)
Tangerine Dream Team (Downtown Athletics)
Trying to Score (Hernando County Sheriffs Office)
Hammer Jammers (Timber Pines)
Boomer's Best (PHSC)
Ball Busters (Publix #411)
The Wolves of Ball Street (Publix #457)
Janet's Bandits (Publix #630)
Jiminy Kick-It (Publix #813)
Brooksville Beetum (Publix #1132)
No O.T. (Publix #1198)
Kevin's Kickers (Publix #1282)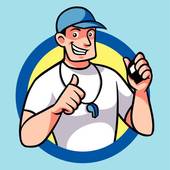 2023 Celebrity Coaches:
Dr. Amy Anderson (PHSC)
April Johnson-Spence (Community Advocate)
Beth Narverud (BOCC)
Blake Bell (City of Brooksville)
Brian Hawkins (BOCC)
Christa Tanner (City of Brooksville)
Jerry Campbell (BOCC)
Jeff Rogers (Hernando County Government)
John Stratton (Hernando County Schools)
Paul Hasenmeier (Hernando County Fire Rescue)
Doug Chorvat (Hernando County Clerk of Circuit Court)
Dr. Lauren Dedea (Toast and Toller Concierge Medicine)
Sheriff Al Nienhuis ( Hernando County Sheriffs Office)
Allyn Welch (Publix District Manager)
Brian Brijbag (Brijbag Law)
Dr. Brian Dahmer (Family Chiropractic)
---
Previous Kickball Champions & Their Impact
2016: "Just Kickin' It" from Publix at Brooksville Square

2017: "Just Kickin' It" from Publix at Brooksville Square

2018: "WRECking Crew" from Withlacoochee River Electric Cooperative, Inc.

2019: "WRECking Crew" from Withlacoochee River Electric Cooperative, Inc.

2020: "Brooksville Bombers" from Publix at Brooksville Square & Celebrity Coach Jeff Rogers

2021: "WRECking Crew" from Withlacoochee River Electric Cooperative, Inc. & Celebrity Coach Jeff Rogers

2022: "Kicking Balls & Taking Listings" from 54 Realty & Celebrity Coach April Johnson-Spence

2023: "Tangerine Dream Team" from Downtown Athletics & Celebrity Coach Christa Tanner