Florida Master Money Mentors (FMMM)
FREE Financial Literacy Course
The Florida Master Money Mentors is a program offered by United Way of Hernando County to help individuals and families improve their financial literacy and stability. This program provides FREE financial education and financial services through trained volunteers who are experts in personal finance. Through the Florida Master Money Mentors program, participants can learn how to create a budget, manage debt, save for emergencies and retirement, and make informed decisions about investments and insurance. This program is available to any and all residents of Hernando County who are seeking to achieve financial success and overall stability.
Click Here to Register for this month's FREE Financial Literacy Course Sessions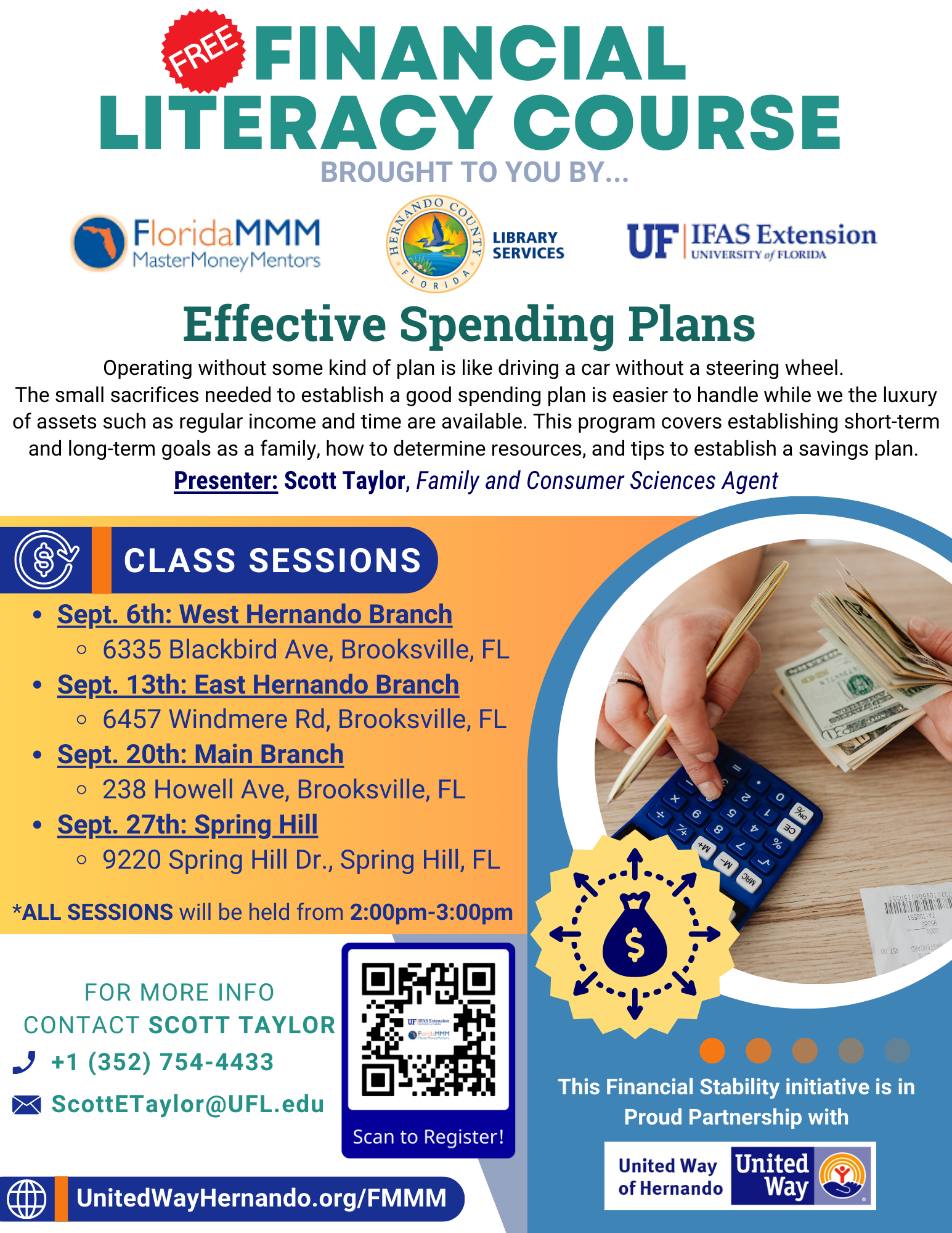 ---
REGAINING FINANCIAL CONTROL
The University of Florida | Hernando County Cooperative Extension Office
The Florida Master Money Mentor (FMMM) program provides free financial education to rural and low-to-moderate-income Florida families with the emphasis being on one-on-one peer education.
Participants in the program can receive assistance in developing spending plans, organizing financial records, understanding credit and planning for the future. The overall goal is to increase financial knowledge and promote positive financial practices.
In partnership with Bank of America and with support from United Way of Hernando County, FMMM provides FREE financial support through local workshops on:
Simple Strategies for Managing Your Money
Budgeting
Developing and Effective Savings Plans
Insurance and Estate Planning
Getting Ready for Retirement
No charge. No appointments or sign ups are necessary.
Contact Scott Taylor from Hernando County Extension with further questions 352-754-4433 ext. 4
*Potential United Way Emergency Assistance clients requesting financial aid for a second time must first complete a FMMM session and have the appropriate agreement signed in order to be considered for an assessment again. This policy was clearly explained during your initial application process and has been put in place for your best interest. 
QUICK LINKS & RESOURCES
Interested in becoming a part of the America Saves movement and receiving tips on how to save? PLEDGE TO SAVE now!