In support of United Way's Education Initiative, UWHC has partnered with Little Free Libraries (LFL) to provide a quality book exchange in Hernando! Children and parents are encouraged to "Take a Book or Return a Book" at various locations. The mission for this early literacy initiative is to promote a sense of community and passion for reading of all ages.
---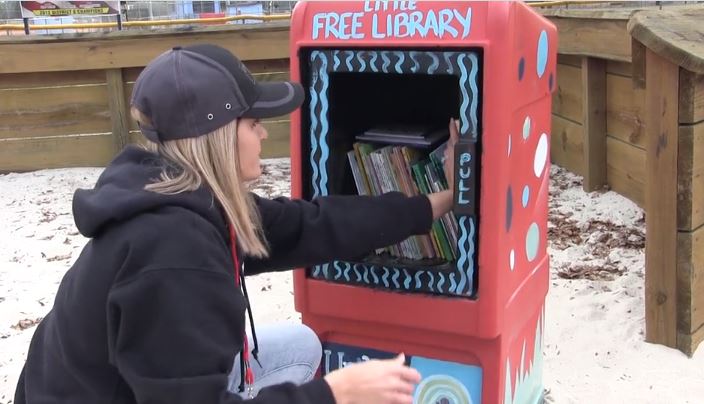 What are Little Free Libraries?
Little Free Libraries are hand-crafted structures filled with constantly changing collections of books donated and shared by people of all ages and backgrounds. Most Little Free Libraries are placed in front yards, parks, gardens and easily accessible locations. The Libraries are built to hold approximately 20-50 books. Some Libraries are located in doctor's offices, coffee shops, in or near restaurants, community centers, parks and waiting rooms.
Originally designed to look like a one-room school or a "house of books," the Libraries rapidly took on a wide variety of sizes, shapes, themes and other attributes. There is no standard size and shape. Although many businesses and apartments may have had "take a book, return a book" shelves for years, the idea of a network of unique structure with stewards, signage and social support began in 2010.
---
How many Little Free Libraries are there?
As of September 2016, United Way hosts the following Little Free Library locations in Hernando:
As of June 2019, there are nearly 40,000 registered Little Free Libraries in all 50 states and 70 countries. Please see the Little Free Library map of the world for more locations!
---
Where Do The Books Come From?
United Way of Hernando County, with the help from our UW Student Board, supplies all books stocked at LFL locations. Most books have been donated or are recycled from United Way's Dolly Parton Imagination Library. People around the world have embraced the idea of Little Free Libraries and in Hernando County, we're working to strengthen and support them with effective communication channels, events, and partnerships that build on our mission.
---
How Can I Get Involved?
Host a book drive and donate the books to UW's Little Free Library!
Donate to United Way's Dolly Parton Imagination Library Program (where every child receives a FREE book in the mail from birth to age 5)

Volunteer

your time! Fill out a Volunteer Hernando Application today. You will be contacted for upcoming events!

Advocate!

United Way supports many Hernando County Programs. Learn more about them by clicking HERE

Give

!

United Way is a 501c3 organization that invests in Hernando County programs that support Health, Education, & Financial Stability
---