Grandparents Raising Grandchildren Seminar
This initiative is a part of United Way's "5 DAYS OF CARING" 
TAKE ACTION: Grandparents caring for their grandchildren are invited to this specialized seminar, geared towards services, resources, and workshops catered to you! In partnership with PHSC, Parent Academy, United Way of Hernando County, and Hernando County Schools, we recognize the crucial role grandparents play in the lives of our students. Join us for this hands-on, interactive initiative! 
WHEN: Monday, November 27, 2023 from 9:30am-2:00pm
LOCATION: PHSC Spring Hill Campus - BUILDING B - 450 Beverly Ct, Spring Hill, FL 34606
Breakfast & Lunch will be provided, thanks to Supporting Partners from Sinkhole Titan, Krueger City/Bagels & Beyond, Starbucks on County Line, and Chick-fil-A!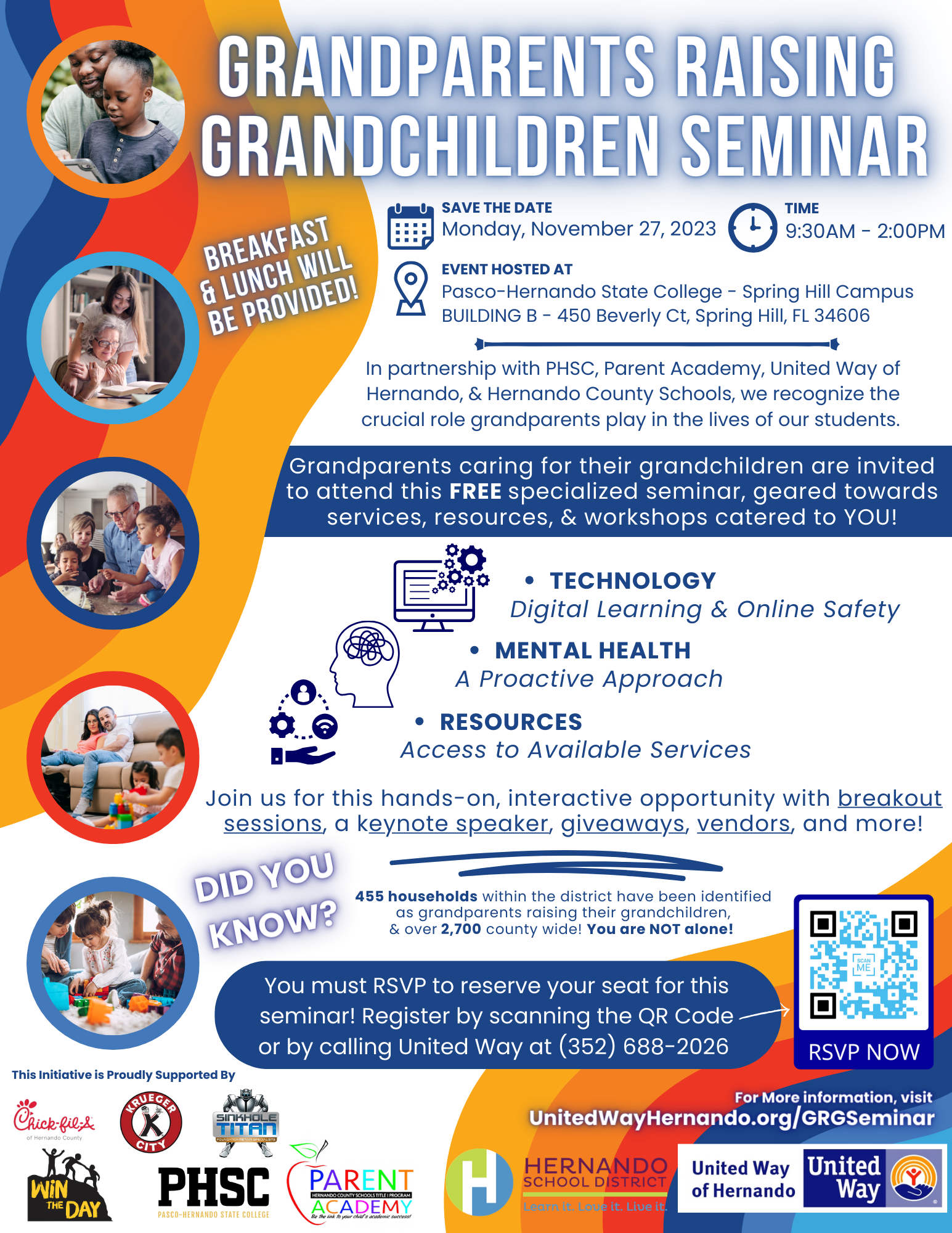 Seminar Vendors:
---
Breakout Sessions:
TECHNOLOGY - DIGITAL LEARNING & ONLINE SAFETY
Guest Presenters: Hernando County School Board Academic Services, Jesse Diaz on ParentSquare, ClassLink & more online tools at your fingertips!
Hernando County Sheriff's Office, Economic Crimes Unit on online safety and apps to be aware of.
---
MENTAL HEALTH - A PROACTIVE APPROACH
​​​Guest Presenters: NAMI Hernando, Tina Kinney on youth services, Family to Family & Peer to Peer Support Groups, and access to care.
Hernando County School Board Student Services, Jill Kolasa & Janice Smith on 504, discipline, school resources and action.
---
RESOURCES - ACCESS TO AVAILABLE SERVICES
Guest Presenters: United Way of Hernando County, Angie B. Walasek on available resources & where to go to find them, senior wellness, and wraparound services.
Community Legal Services of Mid Florida, Michael Weaver on guardianship, legal services, and your rights.
Kids Central, Inc., Christeen Wingate on Kinship, support groups, and access to care.