MEDIA RELEASE
DATE: May 31, 2022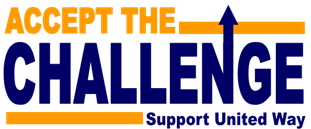 Business Blitz Challenge Will Double Your Donation This June
United Way's Community Challenger Carter Foreman Matches Dollar-for-Dollar
Spring Hill, FL – (May 31, 2022) – United Way of Hernando County's annual Business Blitz Challenge helps transform local donations into quality referrals for businesses. Throughout the month of June, United Way's 2022 "Community Challenger" Carter Foreman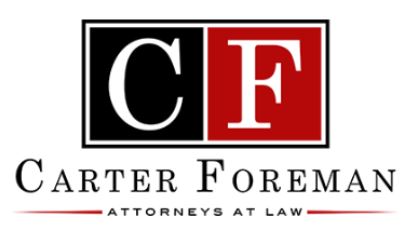 Attorneys at Law has pledged to match dollar-for-dollar donations to United Way from any business. In a time where financial resources and collective solutions are so desperately necessary, this Challenge actively encourages local businesses and corporations to invest back into their community to help the United Way address the unmet needs and crisis prevention services so many residents are unfortunately faced with. This rapidly changing environment calls for creative, brand-aligned partnerships to generate positive change.
United Way's Business Blitz Challenge presents a unique approach to easily doubling your impact by matching your donation. With partners at Carter Foreman Attorneys at Law providing services such as estate planning, personal injury, criminal defense, family law, real estate law, and business & commercial law, they know first-hand the importance of accountability. United Way assures each dollar donated is invested back into quality programs and resources identified as a priority through health, education, financial stability, and basic needs/crisis prevention services throughout Hernando County.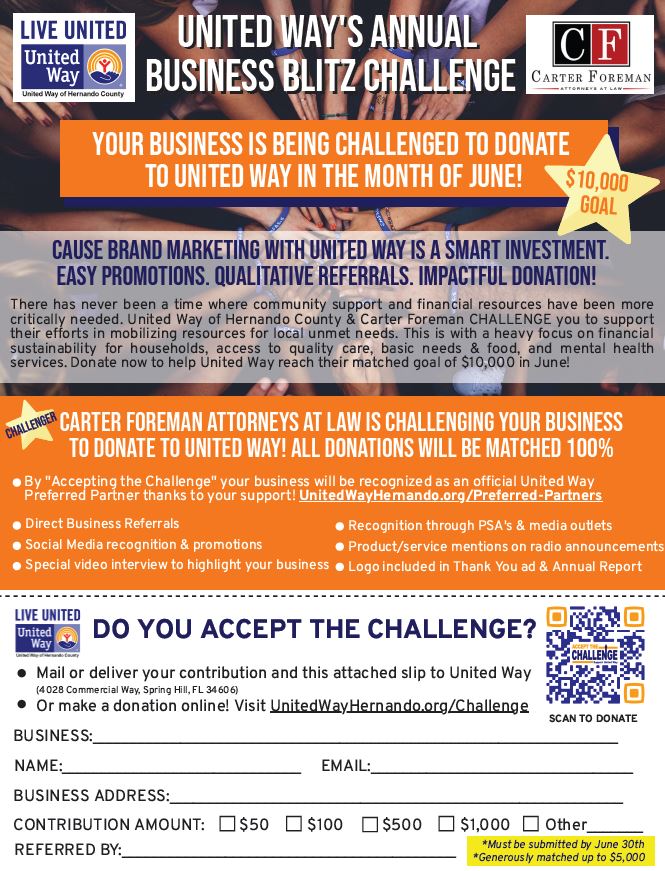 A recent marketing study discovered that over 70% of consumers want to know how the brands they support are addressing community and social issues. Did you know that 91% of consumers are even likely to switch to a brand that supports a good cause? Effective cause-brand marketing allows brands to connect with their target audience through shared values by supporting a worthy initiative or organization.
All businesses who "Accept the Challenge" in the month of June, will not only have their donation (of any size) matched, the cause-brand marketing approach United Way will provide will translate into referrals as a "Preferred Partner". Learn more about how your donation will be recognized and promoted by visiting, UnitedWayHernando.org/Challenge.
How to Participate:
 Pledge to LIVE UNITED by contributing any dollar amount to United Way in June 2022:
1. Accept the Challenge by donating online UnitedWayHernando.org/AcceptChallenge
2. Or mail in or drop off your contribution to the United Way office (4028 Commercial Way, Spring Hill, FL 34606)
3. Send PayPal to PayPal.ME/UWHernando
This Challenge provides local companies the opportunity to give back to impactful community programs through United Way and be recognized publicly for their corporate philanthropy. United Way's Community Challenger Carter Foreman chooses to LIVE UNITED and Challenges you to do the same this June. Donations will generously be matched up to $5,000. For more information, visit UnitedWayHernando.org/Challenge or call 352-688-2026.
###
COMMUNITY CHALLENGER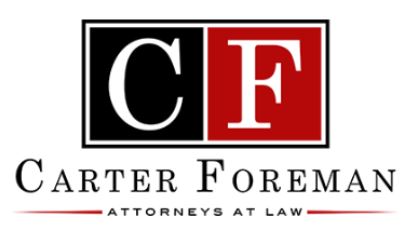 Carter Forman PLLC is a reliable law firm providing quality law service, established and trusted in Hernando County since 1987. 
At Carter Foreman PLLC, we focus on what you need to live and prosper. As a full-service law firm, you can turn to us for advice and capable representation at every stage of life. We can protect your best interests in these areas and more:
We connect our clients with attorneys that have years of experience in these fields.
A Reputation You Can Trust
Due to our long and consistent track record of achieving results for individuals, families and businesses, we have emerged as a preeminent Florida law firm. Our trusted name stands for exceptional service in even the most challenging matters such as high-net-worth divorces, complex business transactions and alternatives to real estate foreclosures.
Here For Our Clients And Our Community
We are known for more than our outstanding history of success. We take an active part in local projects and organizations that make positive contributions to our area. We're dedicated to improving the lives of our clients and others throughout our greater community.
With offices in Hernando and Pasco counties, we are conveniently positioned to serve Spring Hill, New Port Richey and surrounding areas.
Call Carter Foreman PLLC  today at 352-616-7487 to schedule a consultation.